CORBETT NATIONAL PARK
India's first and finest park spread over 520 sq. kms. along the banks of the Ramganga river, just 300 kms. northeast of Delhi in the foothills of the Himalayas is the Corbett National Park. Established initially as Hailey National Park on August 8, 1936, in honour of Sir Malcolm Hailey, then governor of the United Provinces, the name was changed to Ramganga National Park in 1952. In 1957, it was finally named as Corbett National Park in honour and memory of the late Jim Corbett, the legendary hunter, naturalist-turned-author and photographer who had helped in setting up the park and demarcating its boundaries. With elevations in the Park ranging from 400m to 1210m there is a rich diversity in habitat. Animals of the Himalayas and those of peninsular India can both be s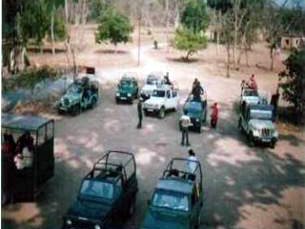 een here and over 50 mammal and 25 Reptile species have been recorded at Corbett. Among the predators are the tiger, leopard, diverse species of lesser cats and the dhole - the wild dog. There are antelopes (nilgai and ghoral) varieties of deer (hog deer, sambhar, chital or spotted deer and barking deer), the primates (rhesus and langur) and other animals like jackals, foxes, civets, wild boar, sloth bear, black bear and a range of reptiles including the cobra, python and two species of crocodile.
The rare fish eating, long snouted gharial and the more robust mugger can be seen basking along the sand banks and pools of the Ramganga. The river which is also noted for its sporting fish, the mighty mahaseer and the malee is popular with anglers.
Corbett is the home of 580 species of birds including water fowl, 17 types of woodpecker, raptors like the Pallas fishing eagle, harriers and kites, peafowl, kalij pheasant, the rare chir pheasant, red jungle fowl, minivets, shrikes, cuckoos, drongos and barbets. A fine reservoir on the river formed with the building of a dam at Kalagarh now attracts diverse species of water birds - both local and migratory. With its avian variety Corbett is a marvelous location for bird watchers also.